BUZZ
LIGHTYEAR'S
Space Ranger Spin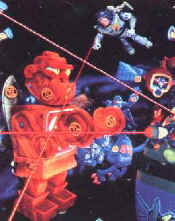 Buzz's Spin is one of our favorite attractions at Walt Disney World. It is a day glow, interactive, laser cannon shooting, Toy Story experience. .
In it you become a Space Ranger Cadet, called into action to protect the Galaxy from the Evil Emperor Zurg. You protect the Universe, with your laser cannon, by blasting Zurg's robots and minions.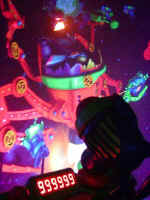 Best of all the ride keeps score, bragging rights are on the line, so place your bets. (Keep reading to find out how to score a 999999 just like in this picture)

Buzz's Space Ranger Spin was introduced to Tomorrow Land, in the Magic Kingdom, in 1999. It's next to Timekeeper towards the Carousel of Progress. The line forms directly across from the ExtraTERRORestrial Alien Experience [ The biggest waste of time in Disney World but you should go there so the line for Buzz is shorter for me. :) ] Buzz is an early entry ride and we have ridden 3 or 4 times in a half hour first thing.
Click the links at the end of each page to deeper into Zurg's World
Space Ranger!