Let me make some introductions.
To the left is Kelley, Snow you know, and my Disney sister, Charis. To the right is Charis' daughter, Amanda.
Charis made the Snow White dress for Amanda. Charis also made the groovy Alice in Wonderland dress Sasha is wearing. Unfortunately the Alice Dress has, like the Cheshire Cat, disappeared.
Charis made these dress so long ago that it was before the Mouse sold Snow White costumes in the parks. Legend has it that this dress motivated the House of the Mouse to retail Snow White outfits. We may never know if that legend is true but that is our story and we are sticking to it.
Since then many little Girls have worn the Snow White Dress. Each has made magic in it.
Charis let Kelley wear the dress when our family celebrated our parents 50th wedding anniversary at Disney World in '95. Kelley wore it to the parks then and on our next trip to WDW.
Cast members fall allover every little Snow White who wears the dress to the park. Kelley blushed as the cast of the Jungle Cruise made a big fuss getting "Miss White" a seat up front in a new boat. Her dad (me) is still ticked off that the only time he hasn't carried a camera, all the Dwarfs in the Electrical Parade, stopped to bow and blow kisses to Kelley in the dress. Charis reports that Amanda had the same wonderful parade stopping experience.
Delaney wore "The Dress" every day for a month after Kelley got it out of the closet and passed the family tradition on.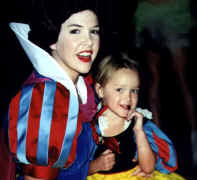 Here is Delaney in the dress with the real Snow White in Epcot. The blush on Delaney's cheek is a kiss from Snow. Months later Delaney pointed out that Snow White wears red makeup.
Like her sister and cousin Delaney in the Dress is enough to stop the parade. Delaney wowed the cast of Tapestry of Nations. Here are a few shots of her in action.
Delaney got to sit with Snow and got a big kiss too!
And finally, my favorite Disney photo. Kelley and Blair hand in hand
walking through the Fantasy Land .