BadShoe.com Welcomes
Guest Shoe Shooters
Buz
ROFLOL
Kill the LGMs!

Hey, Zurgie,
Some woman thought that these would be the perfect shoes for walking around Epcot. :) They might not have been comfy, but she did get to show off her polished toenails. LOL
May 2004
Hey Bennet,
New bad shoes from the RMD family. Photographed by me at Epcot yesterday. Keep in mind it was somewhere around 95 degrees!!!
More RMD
These Just In
Our First Universal Shoes!
I got to wonder how these shoes and that pavement get along
doesn't look like a good mix to me.
RMD's 2003 Shoe
Hmmm Lime green, anyone we know?
RMD's May 2002 Shoes.
These boots were made for walk'n..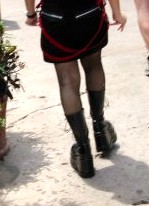 and last season's Gem
Nice solid sole, good ankle support yeah I could walk on these all day. NOT.
Lisa Tx
Lisa said, "ummmm... interesting footwear"
No Lisa, Not interesting, it is Bad!
These were on a man wearing a matching lime green jacket. They must be DISers. Come on and confess now.
The rest of Lisa's collection on the DIS
(if your not a member - JOIN!)


Chris asks Zurg, "Hey do bad Boots Qualify? I was wondering because I took these pictures at the Magic Kingdom. Thought I would send them to you. My wife thinks it is too funny how you show bad shoes so now she is on the lookout when we go to Disney. Have a ball with the pictures."
OH Yeah! These Qualify! Yahoo! Thanks Chris.