2) Click on the Yellow Sneaker and fill out the form. If you are registering a family, (Yeah!) sign up mom or dad first and well show you a short cut. The form look like this:
3) You can choose to create you own "Walk Central" Page. This is a web page with a little thermometer gauge of how much you have raise and links to taking on line pledges. We are happy to help you customize a page if you are interested. This what ours looks like: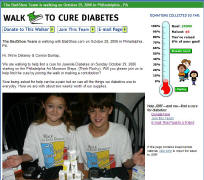 4) Confirm your registration
5) OK Here is the family Short Cut. Please register everyone who is walking. That way JDRF gets a good count. There is a thank you for registering screen after the confirmation. In the right corner of that thank you there is a green button that says: Register Another Walker from the Same Address. Click that and sign up everyone else who is coming down to the walk.
Thanks see you at Tyler Park