Skuttle went to Chef Mickey's with 60 or so of his closest friends.

It was standing when we left - that's our story and we are sticking to it.
Here is Shuttle with the Big Cheese, his Girl friend Marilyn and chaperones.
You may need to click on this to see Dave is making gestures behind Chip
and to see Chip's Krispy Kreme hat.
Chip, Skuttle and Marilyn
Zurgswife, Skuttle, Minnie, CarolA, Marilyn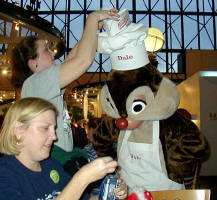 Zurgswife puts a Krispy Kreme hat on Dale
Dale & Dalepool
and people wonder why the napkins are green
Minnie gives camera advice.