1/10/04 Soon to be our New Dog:
She has to grow a little before we can have her.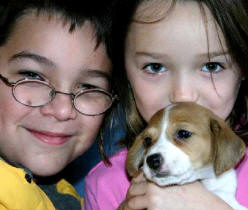 We love to go to Walt Disney World. We do the normal tourist stuff - like taking pictures at Kodak's Image Works in Epcot. They have a bunch of digital cameras in kiosks and you can email a picture out.
These maybe the only free souvenir in Disney World. This is us, Bennet & Kimball but click on us and you will see we got our money's worth.
You a WDW pro? Take our test - click this slide and see if you can spot what's missing from the picture. Not into tests after an ugly blue book incident in high school? Like most folks at Disney World we take a lot of pictures. We share some in our parks section or go here to see some funny people.
We hung with our heroes at Al's Toy Barn and spent Halloween in the Magic Kingdom. Way, Way Cool! You can check out the groovy hand made "Fashion by Zurg" costumes and stuff at our Halloween page.
We also do some completely different, and not at all normal stuff (or at least the shrink says it isn't too normal,) like laugh at what people put
on there feet. Our Festival of Unfortunate Theme Park Footwear is the result. If you would like to share a chuckle, click on BadShoe.com. Hey if you happen to shoot some really awful, horrific, blister making, unfortunate footwear email them to us.
The Dress and its history.

Hop in - the waters fine. Images from the Boardwalk & pool. Our enthusiasm for Disney leads to a lot of conversations and sharing of trip tips. We have started to organize our tips here. There are some really impressive wed sites dedicated to Disney World. Rather than a poor attempt at replicating them we provide some links. In other words see Deb's or the DIZ